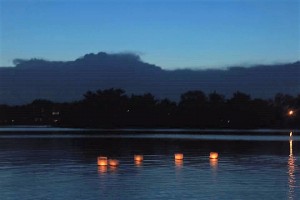 LANTERNS GO ON SALE JUNE 5TH, 2017!
"Glimmer of Hope" is an "art happening" gathering where art and reflection come together.  Inspiring and memorable, attendees pre-purchase a water floating paper lantern and personally adorn it with your own hope, wish, or prayer of reflection.  Past lanterns were drawn or written on, stenciled, or jeweled; there is no right or wrong way and you do not have to be artistic to participate. It is your own personal lantern!  On August 12 (rain date is the 13th) join the community of Bay Head at Twilight Lake and set your personal reflection a float.  A wonderful and inspiring evening where you can express yourself, pay tribute to a loved one, or simply make new friends!
Lanterns are available at: ReFind 43 Mount St. Bay Head, NJ
There are no online sales or holds.  First come first serve.
Connect with www.refind43.com for all the details.
Follow the event:  https://whttps://www.facebook.com/ilovebayhead/glimmerofhope
Instagram #glimmerofhope
Proceeds from "Glimmer of Hope" provides three local 8th grade Bay Head Elementary students with gift certificates for art supplies and funding for future plans by the Bay Head Business Association Beatification Committee.
[fbcomments width="100%" count="off" num="3" countmsg="wonderful comments!"]