Join us as we kick off the holidays with the 36th Annual Bay Head Christmas Walk,  an " Old Time Christmas" weekend packed with tradition!
Friday Dec. 1
5:30 – 8:00
Open House at the Businesses…many different events going on..stroll from Bridge Ave to lake and around to Mount St. with more on Main.
6:oo  Musical program by BH School at the Firehouse. Hot cocoa and hot dogs courtesy of BHYC and Boy Scouts
6:30 Santa arrives at the BH Firehouse
6:45—Tree lighting, refreshments and caroling at All Saints Church, Lake Ave
7:00—The Talking Tree, Main Ave., near Bay Head Travel
7:00-8:00—the Nutcracker Ballet  program at Bay Head Violin and Ballet School/corner of Mount and Lake
6:45—-Holiday movie "Charlie Brown Christmas"  Main Ave., Beach House
Additionally— on Bridge Avenue—
Christmas carolers at Charlie's
The Jubilee Bells at Andi's
"Elsa" from "Frozen" will sing at Fire House at 6:15, then be at The Jolly Tar until 8:30.
The 2nd annual Memorial Stars will be hung throughout the season. Fill out your own honoring a loved one, family member, friend or pet. Also "Prints for Puerto Rico" a fundraiser for school rebuilding on the island.
Live brass band at Diane Turton's.  Bring an unwrapped toy to support the Turton Toy Drive which benefits families through the Madonna House.
Saturday Dec. 2
Saturday, Dec. 2 —
9:30 – 11:30 BH School Pancake breakfast with Santa at Fire House
12:30 – 3:30 Free trolley rides with Santa with stops around town and at the BH Historical Museum
12:30 – 3:30 — Victorian Christmas at the Loveland Museum along with exhibit of
Art of the Jersey Shore.  Refreshments.  Free Admission.
6:00 – 10:00 —"Holiday Soiree" at Charlie's Restaurant, Bridge Avenue
Dinner, outstanding entertainment, fabulous silent auction
Tickets $100 sold only in advance at The Jolly Tar.  Space limited; buy early.
To benefit the Bay Head Business Association.  Cash or Check only/checks made out to the BHBA please.

Sunday, Dec. 3
1:00 – 4:00PM  Night in Bethlehem at St. Paul's with a live manger scene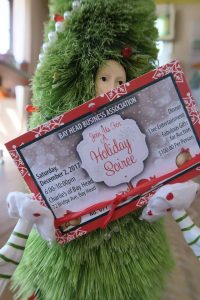 Holiday Soiree at Charlie's of Bay Head. Tickets available at the Jolly Tar
[fbcomments width="100%" count="off" num="3" countmsg="wonderful comments!"]