When:
December 7, 2018 @ 5:30 pm – 8:00 pm
2018-12-07T17:30:00-05:00
2018-12-07T20:00:00-05:00
37th Annual Christmas Walk in Bay Head A Bay Head Tradition
FRIDAY, DECEMBER 7
Holiday Highlights on Bridge Avenue:
CEREMONIES AT THE BAY HEAD FIREHOUSE
Bay Head School Musical Program at 6PM
Hot Cocoa & Hot Dogs Courtesy of B.H.Y.C. & Boy Scouts
SANTA ARRIVES BY FIRE TRUCK at 6:30PM
OPEN HOUSE IN ALL THE SHOPS &
BUSINESSES from 5:30-8PM
DIANE TURTON, Realtors – 88 Bridge Ave.
Come hear the Brass Band play the joys of the season.  We will be collecting unwrapped toys to support area children through Collier Youth Services and Casa of Ocean County. 6-8PM
THE JOLLY TAR – 56 Bridge Ave. The 3rd Annual Memorial Stars will be hung throughout the Holiday Season. Come in anytime to fill out a Memorial Star honoring a loved one, family, friend or pet.
MUELLER'S BAKERY – 80 Bridge Ave. Stop in for free coffee, tea & a special savory snack.
THERAPEUTIC TOUCH – 58 Bridge Ave (2nd floor) Stop in over the weekend to enter our drawing for a Back, Neck & Shoulder Rescue and Spa Gift Basket. ($100 value)
TANGERINE BOUTIQUE – 84 Bridge Ave. Don't forget our furry friends in shelters this holiday season! Bring an item for a shelter animal & receive an entry to win a gift certificate!
THE COASTAL COTTAGE BAY HEAD – 60 Bridge Ave. Come join us for our GRAND OPENING! Enter to win a gift certificate!
INTEGRATIVE HEALING & WELLNESS
Come meet this gifted team at our new location behind The Coastal Cottage Bay Head. We will be hanging out with the gift shop crew & enjoying stories and laughs. Enter to win a gift certificate for a modality of your choice.
LA LUZ SALON- 82 Bridge Ave. Come enjoy some music with Me & Bobby D. & stop in to enter raffle for gift basket!
ANDI'S – 76 Bridge Ave. Happy Holidays from Andi's! Please stop by & listen to the bell choir, Guess how many snowballs are in the window to win a gift certificate!
Holiday Highlights on Main Avenue:
GLORIA NILSON & CO REAL ESTATE- Main Ave. We will raffling off a 'Basket of Cheer'. We are also collecting for Dottie's House. Cleaning supplies & gift cards: Home Depot, Lowe's, Walmart, Target. 6-8PM
BEACH HOUSE SURF SHOP – 517 Main Ave. Come enjoy Charlie Brown Christmas playing on the front of the shop! 6:45PM
Come by Curtis Court to talk to the Talking Tree & share your Christmas Wishes to report back to Santa.
Holiday Highlights on Mount St. & Lake Ave.:
CANDY CABANA – 33 Mount Street. Stroll on over for some Christmas Karaoke, hot cider & candy. While you wait your turn to sing… make an ornament for your tree!
Friday, Saturday & Sunday
BAY HEAD SCHOOL OF BALLET & VIOLIN
56 Mount St (corner of Lake & Mount)
"THE NUTCRACKER IN THE SKY" Look up & see the ballerinas dancing in the windows. 7PM
REFIND – 43 Mount Street, ReFind: Christmas shopping for #thelittlethings!
NOON DESIGN SHOP – 524 Lake Ave. Shine bright with us as the first 50 customers will receive our limited edition "Bay Head Shine Bright" candle.
ALL SAINTS CHURCH & HALL – 500 Lake Ave.
Christmas caroling and a tree lighting ceremony at 6:45 on Friday.  Tours of this historic building will be offered.  Everyone is welcome.
. . . . . . . . . . . . . . . . . . . . . . . . . . . . . . . .
SATURDAY, DECEMBER 8
12:30 – 3:30pm Free rides on the Christmas trolley with Santa aboard! Ride around Bay Head with stops at St. Paul's for The Christmas Bazaar & at the BH Historical Museum for a Victorian Christmas party & new exhibit. Free to everyone.
Thank you to Manasquan Bank sponsoring the trolley rides
& the candy canes for Santa's visit!
PANCAKE BREAKFAST WITH SANTA
Bay Head Fire House from 9:30-11:30AM
($10 for adults, $5 for children)
VICTORIAN CHRISTMAS &
THE BAY HEAD SCHOOL EXHIBIT
at the Bay Head Historical Society Museum. 12:30-3:30pm
PAUL'S CHURCH – 423 W Lake Ave. Holiday Boutique, Saturday, 10am to 4pm Handmade crafts, bake sale & more!
. . . . . . . . . . . . . . . . . . . . . . . . . . . . . . . .
image credit ReFind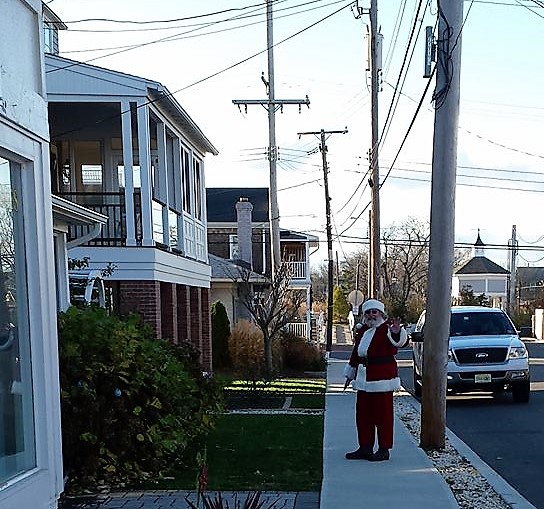 Image Gallery