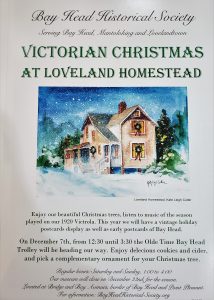 On Dec 7 from 12;30 to 3:30 the Olde Time Bay Head Trolley will be heading to the Loveland Homestead Muesum. Enjoy delicious cookies, cider and listen to Christmas music played on a 1920's Victrola while enjoying the vintage holiday postcard display, as well as ones from early Bay Head. AND don't forget to pick up a complementary ornament for your tree!
Regular Hours are Saturday and Sunday 1-4pm.
The museum will be closing December 22 for the season.
Visit www.BayHeadHistoricalSociety.org for more details.
[fbcomments width="100%" count="off" num="3" countmsg="wonderful comments!"]