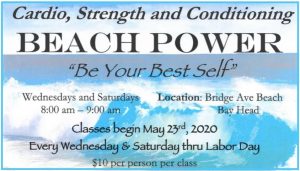 Get your FITNESS on this summer, at the beach! Join Tracey Klehr for a one hour full body, strength and cardio fitness workout with emphasis on positively connecting to one's own physical being and self Power." "Your Fitness is Your Power!" Bring a water bottle and a towel. Meet at Bridge Avenue beach, Bay Head. Wednesdays and Saturday mornings, 8am-9am. $10pp
Fitness begins May 23rd-Sept. 5th
**Please follow Integrative Healing + Wellness social media (FB +IG) as well as Tracey Klehr for any cancellations due to inclement weather.
[fbcomments width="100%" count="off" num="3" countmsg="wonderful comments!"]