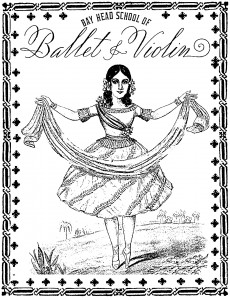 The Bay Head School of Ballet & Violin is dedicated to the study, appreciation and enjoyment of classical ballet and music.  A student of these arts most of her life, Bonnie Behrman developed a love for the classical forms of both.  That love is so intense she wanted to share it with others.  In 1996, she got the chance to do exactly that upon moving to New Jersey.  She opened the Bay Head School of Ballet and Violin.  Dedicated exclusively to classical ballet and music, the school is precisely what Behrman hoped to create—something that didn't exist in the area and would give children a stronger foundation in classical ballet and classical music.
Behrman, who teaches all the classes, has an impressive background in dance and music.  She began her dance education with Irine Fokine, a relative of the renowned dancer and choreographer, Michael Fokine, best known for his ballets, "Firebird" and "Petrushka."  Next, Behrman studied modern dance at the Ailey School and classical music at the Mannes College of Music, both located in New York City.  For the next 10 years, she worked with a dance company she founded.  Her move to New Jersey inspired her to establish her own school.  The school is located in a 100-year-old Victorian house that has been partially transformed into a dance studio.  Decorated in 1800's style, the stunning structure carries visitors back in time and adds to the magic of the fine arts experience.
The littlest ballerinas can start at age 5, and classes are available to students through their high school years.  The ballet students perform in three recitals.  During the Bay Head Christmas Walk, the girls present the "Nutcracker in the Sky" in the school's large picture windows, performing for the crowd of about 300 people who traditionally come out to enjoy the festivities.  The second recital is always the classic ballet, "Sleeping Beauty," when the girls have the opportunity to perform for their parents and friends in the more intimate setting within the dance studio  The third recital each year is different.  Last  year, the students performed "Giselle" after watching a performance of the ballet on video and learning their choreography.  Like a dance company, costumes are borrowed from the studio and passed down to the younger girls.  The girls always look forward to the following year's performance as they advance through the scenes.  Behrman also teaches violin and piano.  The music program has two recitals a year at which each student has the opportunity to perform for family and friends.  The performance often includes duets or larger groups of students playing a classical repertory.
Image Gallery