38th Annual Christmas Walk in Bay Head
5PM – 9PM Open House for all Businesses. A Bay Head Tradition. Ballerina's in the Window at Bay Head Ballet.
6:45—Tree Lighting and caroling
Come visit one of Bay Head's original churches.
Refreshments served. Everyone welcome.
9 am – 11:30 pm Pancake Breakfast at the BH Fire House.
10-4:00 pm: St. Paul's United Methodist Church. 
Christmas and Attic Treasures Sale. Handmade goods, homemade soups. sandwiches and baked goods. Fundraiser to help raise the Church Parsonage. The trolley with Santa will make s tops here. Everyone welcome
SANTA'S TROLLEY SUNDAY DECEMBER 7TH • 12PM – 4PM Victorian Christmas at the Loveland House
Shopping around town throughout the day.
Look for this poster for more details.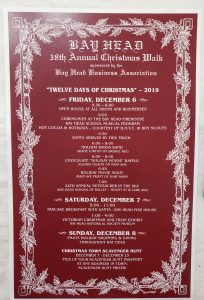 [fbcomments width="100%" count="off" num="3" countmsg="wonderful comments!"]