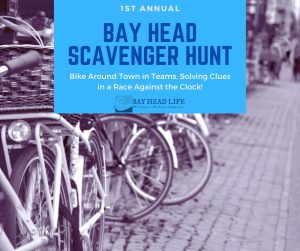 Teams of 2 to 4 people will compete on bikes on a timed Scavenger Hunt around town. The first three teams that complete the timed portion correctly will compete head to head in the mystery challenge to take home the top prize! Bikes are not provided for the event so please come with your own. Only 10 teams will be able to compete so be sure to register online and there will be a waiting list in case any teams drop out.
Registration information to come.
Send an email to recreation@BayHeadNJ.org for updates which will let you know what's happening in town each week. Bay Head is obligated to the Open Public Records Act (so US citizens can request information about our subscribers)
And check out BayHeadNJ.org for more information about local events.
[fbcomments width="100%" count="off" num="3" countmsg="wonderful comments!"]