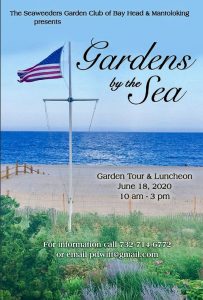 Thursday, June 18, 2020 10am-3pm
10 beautiful gardens on the tour at homes in Bay Head and Mantoloking, NJ.
Lunch is included.
Morning registration and lunch at the Bay Head Yacht Club, 111 Metcalf Street.
Tickets can be obtained via https://www.facebook.com/SeaweedersGardenClub/
Click on events and you will be directed to paypal.
[fbcomments width="100%" count="off" num="3" countmsg="wonderful comments!"]