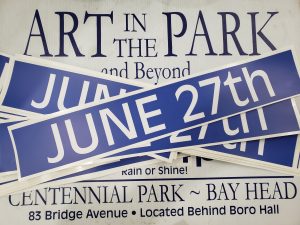 Hello and Welcome! The Bay Head Business Association and ReFind are super excited to announce the 5th Annual "Art in the Park…and Beyond" to be held on June 27th, 2021 from 10am-4pm. Located in one of the prettiest beach communities along the Jersey Shore, Centennial Park is the perfect venue for this art loving community; a town with a rich history of art and artisans. Come by and show your support for all those fine artists and fine hand makers that work so hard just for you! Family friendly with music throughout the day, there is something for everyone both in and out of the park!
One more note: The call for artists always begins in October of the year.  If you align yourself with the fine artistry of textiles, fiber, printing, concrete, wood, jewelry, photography, pottery, painting, drawing, pastels, sculpture, charcoal, metal, glass, drawing, and/or mixed media…just to name a few… please consider applying to the
Art in the Park…and Beyond. Email bayheadaitp@gmail.com  to request information or to be put on the mailing list.  You can also go to
www.refind43.com
and find an application…just tap on the "community" tab and you will find it and all information needed at the current time.